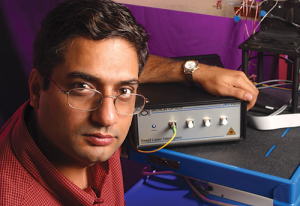 The Graduate Program in Mechanical Engineering provides our students with an educational experience grounded in the engineering sciences and focused on producing a professional capable of systematically applying those sciences to solve real-world problems.
Our program encompasses advanced study and research in the areas of applied mechanics, control of dynamical systems, materials science, thermal and fluid sciences, and biomedical engineering. We are also home to the college's interdisciplinary programs in Aerospace Engineering and Space Architecture. Degree programs include:
Qualified applicants should have backgrounds in engineering, mathematics, and the physical sciences. Part-time graduate study is encouraged, and several of our graduate courses are offered as evening classes (4:00 PM and later). Detailed information regarding the requirements for thesis program can be found on accompanying pages.
Accelerated Master Fellowships Available for UH Mechanical Engineering Undergraduate Students!
The accelerated (fast track) B.S./graduate degree program is open to qualified undergraduate engineering students desiring to continue their education at the graduate level immediately upon completion of the B.S. degree. This program is intended for students seeking a graduate education while ensuring that the timeframe to graduation is optimal. 
Accepted students take up to six approved graduate credit hours that are applied to both the B.S. and the M.S. degree. This effectively changes the Master's degree requirement from 30 to 24 credit hours, allowing students to complete this M.S. degree in just one additional year or less. In the meanwhile, the awarding of the B.S. degree is not delayed --- you still get your B.S. degree, and get to walk at the commencement, when you complete the requirements for the B.S. degree.  Students may pursue either thesis or non-thesis Master's degree options or the Ph.D. degree. 
The GRE is waived for the spring 2021 semester. Find out more information here. 
Admissions Scholarships Available for Incoming International Students!
Receiving this scholarship qualifies international and out-of-state students for a waiver of the non-resident portion of their tuition for the semesters in which they receive the award.
Application Deadlines
International
Domestic
Fall Semester
March 15 (*Priority)
May 15 (Regular)
March 15 (*Priority)
May 15 (Regular)
Spring Semester
October 15
October 15
*Priority applicants will be considered for admissions scholarships and other graduate research assistantship resources.